OpenStack - the beauty of the Beast - part 1
Introduction
Almost two years ago I embarked on a challenge which led me through the depths of OpenStack and the hardship of managing a multi-region OpenStack deployment. OpenStack is a beast, really, it can get enormous even with just "basic" cloud features. For example, if I want to launch a Virtual Machine (VM) in the cloud and have it display a static webpage via HTTP it will, at least, need the following from the cloud provider:
a way to identify a cloud user
a way to store images to boot the VM
hypervisor nodes to launch the VM in
some kind of scheduler to select to which hypervisor the VM should be allocated to
network virtualization on top of the physical network layer, so our user network is separated from other users
some way to access the VM from the exterior
a way for all of the services to communicate with each other
a place to store the state of the cloud at any given moment
That said, there is a lot of service interaction, and they are amazingly independent services that can do their part on their own, and in the end it works (mostly) as expected and it is somewhat straightforward to use.
We can use OpenStack for managing VMs (nova), containers (magnum) or bare metal (ironic) hosts. In this first part of presenting my OpenStack experience we will focusing on VMs and will be covering:
OpenStack overall architecture
Just enough service dependencies to get a working OpenStack cluster
Common difficulties (especially when coming from interacting with older releases)
Basic usage (user perspective)
In a future second (or even third) part we will cover other topics like operating the cloud, dealing with migrations, planning for high availability, and debugging networking issues (insert ominous sounds here).
Architecture
Let us start from a user-centric perspective. As we can see in Figure 1 the user interacts with each service independently. However, in order to do that there needs no be some kind of authentication, and it should also exist some kind of service discovery. We can depict a possible interaction as follows:
Cloud User communicates with the Identity service, authenticating against it and receiving a session token after a successful authentication.
Cloud User communicates with the Identity service using the previously received token and asks for all of the known public service endpoints.
Cloud User communicates with the desired service through its public endpoint, using the same token it received previously.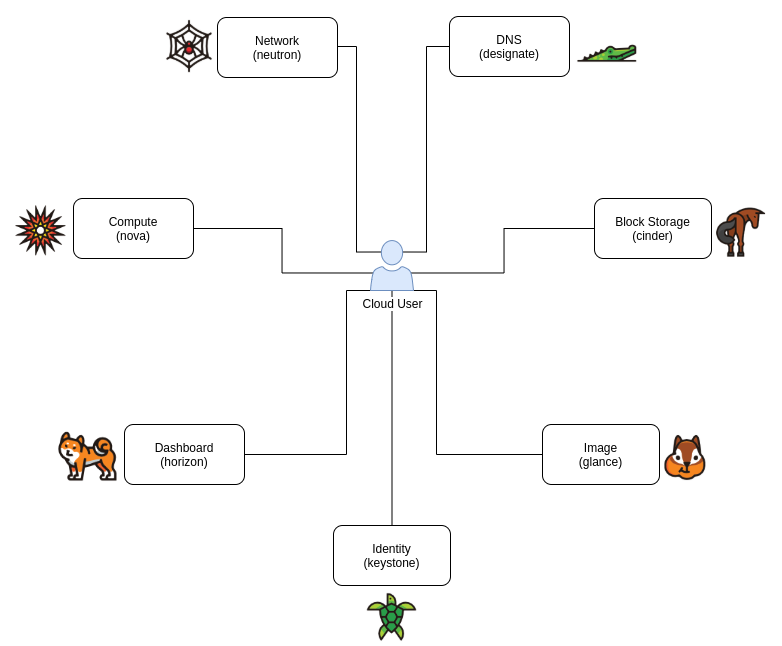 So we can see that the Identity service is a keystone for OpenStack's workflow, and is no surprise that it is called Keystone ;-)
Although there are obvious dependencies for using each service, the beauty of OpenStack is that a failure of one service does not mean a complete failure of another service. We may, however, lack some functionality of the service, for example, if your identity plane crashes spectacularly you may not be able to launch new VMs but your VMs' will still be up and running, and the network is also reachable.
This way of interacting is the usual CLI interaction path, you can, however, not see any of this and use the Dashboard service, also known as Horizon, so that you can see in a web application all of the available services and all of the available features from those services, acting as a proxy for the previous interaction.
Services
In this section we will see every service, one by one, in more detail.
Conclusion
In this first post we took a look at different OpenStack components, namely the bare minimum to have a functional cloud:
manage users, projects and their access tokens (Identity)
manage images to boot VM instances from
manage volumes to store arbitrary data, attaching and detaching from VM instances
manage network components such as routers, networks, subnets, DNS
launch VM instances from an available image or volume
This article and it referred resources should give you everything you need to be able to deploy a minimal and functional OpenStack cluster.
Feel free to leave comments below, any improvement to this and other articles is always welcome.
Thanks for reading!
References
| | |
| --- | --- |
| [1] | --, Keystone, the OpenStack Identity Service - OpenStack Docs [link] |
| | |
| --- | --- |
| [2] | --, Welcome to Glance's documentation! - OpenStack Docs [link] |
| | |
| --- | --- |
| [3] | --, OpenStack Block Storage (Cinder) documentation - OpenStack Docs [link] |
| | |
| --- | --- |
| [4] | --, Designate, a DNSaaS component for OpenStack - OpenStack Docs [link] |
| | |
| --- | --- |
| [5] | --, Welcome to Neutron's documentation! - OpenStack Docs [link] |
| | |
| --- | --- |
| [6] | --, OpenStack Compute (nova) - OpenStack Docs [link] |
| | |
| --- | --- |
| [7] | --, Horizon: The OpenStack Dashboard Project - OpenStack Docs [link] |
| | |
| --- | --- |
| [8] | --, Message queuing - OpenStack Docs [link] |
| | |
| --- | --- |
| [10] | --, Networking service overview - Openstack Docs [link] |
Tags: linux devops cloud computing inspec compliance integration testing
---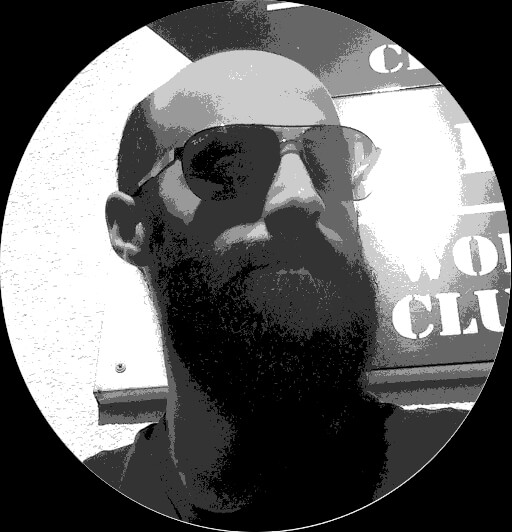 Manuel Torrinha is an information systems engineer, with more than 10 years of experience in managing GNU/Linux environments. Has an MSc in Information Systems and Computer Engineering. Work interests include High Performance Computing, Data Analysis, and IT management and Administration. Knows diverse programming, scripting and markup languages. Speaks Portuguese and English.
---
Related Content
---